Education: Books, Videos & Herding Clinics
The Legacy & Stewardship
---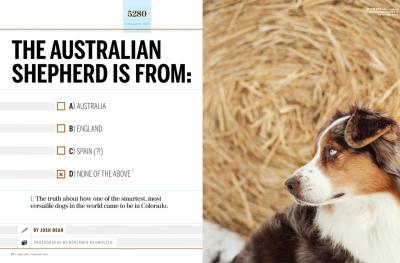 The Australian Shepherd is From?
A wonderful magazine article by Josh Dean featuring the Hartnagle family & dogs
---
Ernest & Elaine Hartnagle

The "unstoppable" Ernie, trialing a dog

"Ernie", as most people know him, spent a lifetime with the breed. He spent the days of his youth on his parent's farm in the Boulder Valley of Colorado.

Shortly after graduation, in the dark days of World War II, he served in the United States Navy with the 7th Fleet in the Pacific Theater. He was awarded the Philippine Liberation Medal, which is one of his most treasured possessions.

After the War, he returned home, finished his education in agriculture at the Colorado State University, and continued to help operate the family farm.

This was to last only until he was attracted to the pretty young ranch girl, Elaine Gibson. To this union was born five children; Jeanne Joy, Christine, Joseph, James, and Carol Ann.

During this time he was engaged in diversified farming activities and employed on a prominent Quarter Horse Ranch. Experienced a tour of duty with the Postal Service and later retired from NOAA, a branch of the United States Department of Commerce. The following years found his ship steadfastly anchored in a location north of Boulder Colorado.
Elaine is considered the driving force behind Las Rocosa. She was born in Colorado and raised on a ranch in Wyoming. Her ancestors were pioneers traveled to the area in covered wagons when it was still a territory.

She was introduced to the breed through her father Neville "William" Zorne Gibson who acquired his first bobtailed shepherd dog in Wyoming during the 1920s before the breed was called The Australian Shepherd.

Elaine is an ASCA Senior Breeder Judge and between 1975 and 1977, served on the original ASCA Breed Standard Committee. From 1982 to 1987 she assisted the ASCA Show Secretary's Office. Along with Ernie, and their five children they developed the now famous Las Rocosa bloodlines and was the first kennel to be admitted into the Australian Shepherd Hall of Fame for breeding a standard of excellence. She is currently working on a book titled Developing a Bloodlines of Distinction.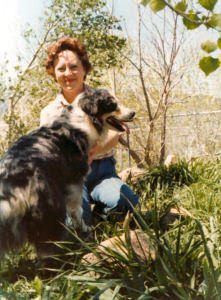 Elaine & Las Rocosa Bit-O-Blue
---
---
---
---
Jim Hartnagle & Lisa Hartnagle

Jim, who is now retired from the Professional Rodeo Cowboy's Association, rode bucking stock in the Bareback Riding division for many years. Of all the awards he has won, among his fondest are his wins from the 1986 and 1989 at the Earl Anderson PRCA Memorial Rodeo in Grover Colorado which he revisits each summer.

"Working has always been a part of my life. My family has been involved with the breed long before I was born. The dogs that I played with as a child are now part of the breed's history and so are my parents. As my life evolved I always had a dog at my side."

"In 1994, I started entering Stock Dog Trials and have met many good people along the way. It has taken me from one end of the United States to the other and to foreign countries including Canada and Sweden." Jim has finished several Working Trial Champions including WTCH Las Rocosa Pecosa Rojo RD, WTCH Rodeo Romeo and WTCH Las Rocosa Whispers Success as well as qualified for the ASCA National Stockdog Finals.
"Training is not anyone's big secret. It is a lot of shared techniques that are used to enhance the instincts and working ability of a good dog," says Jim. The way he trains and has shared in "The Working Australian Shepherd" works for him and are the methods that he teaches at his clinics.
Jim, along with his wife Lisa, focus their efforts on stock dogs. Lisa also "holds down the fort," so Jim can travel to trials and host clinics.
---
Joseph Hartnagle - A Legacy Left Behind
In loving memory of Joseph Hartnagle,
cherished son, brother, friend & mentor to many.
Rest in peace dear Joe
1958 ~ 2005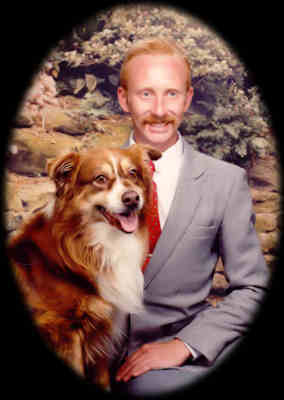 History plays a significant role in our lives. History blesses us with the inherent wisdom of the men and women who walked in a time before us. It is a teacher that guides us in future decisions. It is also a friend that comforts us with wonderful memories. Joseph Hartnagle played an important role in the history of the breed.
In loving memory of Joseph, from The Hartnagle's

~ ~ ~

His Journey's Just Begun
Don't think of him as gone away
his journey's just begun,
life holds so many facets
this earth is only one.
Just think of him as resting
from the sorrows and the tears
in a place of warmth and comfort
where there are no days and years.
Think how he must be wishing
that we could know today
how nothing but our sadness
can really pass away.
And think of him as living
In the hearts of those he touched
For nothing loved is ever lost
And he was loved so much.
Ellen Brenneman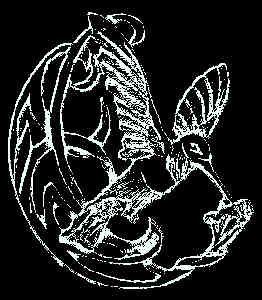 I know your life
On earth was troubled
And only you could know the pain
You weren't afraid to face the devil
You were no stranger to the rain
Go rest high on that mountain
Son, you work on earth is done
Go to heaven a shoutin'
Love for the father and son
Oh, how we cried the day you left us
We gathered round your grave to grieve
I wish I could see the angels faces
When they hear your sweet voice sing
Go rest high on that mountain
Son, you work on earth is done
Go to heaven a shoutin'
Love for the father and son

HARTNAGLE'S LAS ROCOSA AUSSIES
E-mail: lasrocosaaussies@aol.com
Telephone: 303.659.6597
Fax: 303.659.6552
Breeding Sound Versatile Aussies Since 1955
Founding/Lifetime Members ASCA and USASA
Copyright© 1999-2015. All information, pictures & graphics contained on this website belong to
Las Rocosa Australian Shepherds & cannot be reproduced without written consent. All Rights Reserved.
The Hartnagle's Las Rocosa website designed & maintained by Mikatura Web Design