Education: Books, Videos & Herding Clinics
The History of Las Rocosa Aussies
Chapter I: The Beginning
---
The Hartnagle's Las Rocosa Aussies are internationally recognized as the "quarter-type" of the dog world. Presently, there are representatives of our bloodline in 49 states, Canada, Mexico, Japan, Puerto Rico, Europe and the Middle East. We produce attractive, athletic, intelligent dogs with trainability, stock savvy and heart. They go the distance in the real world.
Las Rocosa Aussies are noted for their clean, classic head-type. Clear, deep rich colors enhance the total balance of structural and temperamental soundness. Our dogs are specifically bred for high performance standards of the "real world". Check the record. Our success speaks for itself.
Aussie breeders of other lines incorporate Las Rocosa Aussies to utilize the genetically clean lineage, to obtain rich, clear colors, and to add or intensify herding ability. Many depend on our blood to infuse our trademark "can do attitude" that is so critical for winning performances.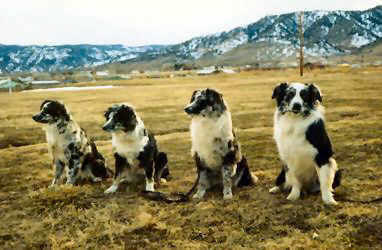 Las Rocosa Moss Agate, Hartnagle's Fritzie Taylor,
Champion Las Rocosa Sadie Blue CD, Hartnagle's Hud
During the early years, we established an "ideal" that we still breed for: A sound, beautiful dog, with intense herding ability. Over the years, we have never sacrificed our goal for any fad -- be it structural, cosmetic or in herding style.
The line of Hartnagle dogs began over four decades ago with Goodie - a beautiful daughter of Ely's Blue, and with Badger (1954-1969), who was a son of Blue. Through the years descendants of these foundation dogs carried on their heritage and became the guideline by which we selected our dogs.

These dogs were line-bred - as Badger displayed courage, intense proven herding ability, longevity and the loyalty that we so desired and wished to intensify in the line. During his twilight years, however, we realized the need to locate a successor to the throne. After nearly giving up and maybe having to settle for less, a handsome young scoundrel - a real character, appeared on the scene. Immediately, we knew that we found what we had been looking for. He built his reputation under the name of Hartnagle's Hud.
Hud filled the bill beyond our wildest expectations, never held a grudge, and would do anything you asked of him. It was often said that Hud was "before his time". Based on Hud's supremacy, we purchased a female of the same cross (Taylor's Whiskey x Taylor's Buena). She was christened Hartnagle's Fritzie Taylor. Fritzie Taylor continued the tradition of producing beautiful, sound working stock dogs that included a number of champions and herding-titled aussies. Both Hud and Fritzie are listed in the prestigeous ASCA Honor Roll of Conformation and Working Sires and Dams, respectively.
Next, we concentrated on developing our line of reds. At that time in the breed there were no other established red strains. Even today, the finest red dogs go back to our CH Las Rocosa Shiloh. As a sire, Shiloh met our unyielding specifications. His dam, Hosmer's Jill, was a full sister to Hud and Fritzie Taylor - who were already proven in our program. CH Las Rocosa Shiloh has since become one of the most influential foundation sires of the breed. A saying coined long ago held steadfast throughout the years: "Shiloh - a name that made history in our nation - a name that made history in our breed". Shiloh is included in the ASCA Hall of Fame for his outstanding legacy.
Shiloh's genetic soundness is still evident in his progeny over the past decades. Shiloh crossed to CH Shanahan's Phantom, CDX, a Hud granddaughter, produced CH Stonehenge Justin Case of Las Rocosa, CD - one of the most prominent show dogs in the nation during his show career time (1976-1982). Justin Case is listed on the prestigious ASCA Honor Roll of Conformation Sires and is the sire of CH Just Jake of Las Rocosa, CD, STDcs, ATDd; CH Las Rocosa Justa Sinner and CH Las Rocosa Justin Junior of Mt. Gold, CD.
Our golden cross was Fritzie Taylor and Shiloh. The legacy lives on through their offspring that include: CH Las Rocosa Ricky Taylor, CH Las Rocosa Rojo Hombre, CH Las Rocosa Blue Brocade, Las Rocosa Rose and CH Las Rocosa Leslie, CSD...each who went on to develop lines of their own!
Our CH Las Rocosa Leslie CSD, had a major impact on the breed through her sons, CH Chulo Rojo of Fairoaks CD, Las Rocosa Sydney (both by Taylor's Whiskey) and Las Rocosa Lester (by CH Las Rocosa Shiloh). Sydney and Lester both are ASCA Hall of Fame Sires. CH Chulo Rojo of Fairoaks went on to become an ASCA Hall of Fame Sire and USASA Register of Merit Excellence III Sire award, the highest offered to date.
One of our most prominent dams was Las Rocosa Christophene STDds OTDc, (CH Las Rocosa Shiloh ex Howe's Little Peedee). This Shiloh daughter went on to produce CH Las Rocosa Leo Four-A, ATDc, HOF CH Las Rocosa Little Wolf STDcd and HOF WTCH Las Rocosa Bonnie Kyle, RDX (all by Las Rocosa Lester) and Las Rocosa Rogue, OTDc (by Las Rocosa Sydney). Rogue, Little Wolf and Bonnie Kyle are all ASCA Honor Roll Sires.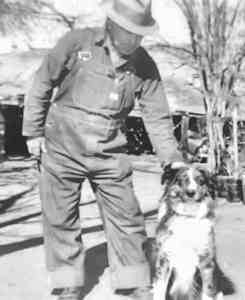 William Gibson, Elaine's Father with "Bob" one of his Aussies.
William had dogs for most of his life and when he was a young man,
they didn't know the name of the breed...
they just called them "Bob Tail Shepherds"!
This profile of our past is the foundation of our future. Today, we maintain several outstanding sires and dams that have been specifically bred for a high performance criteria. With the help of our entire family, we continue to work toward the same goals we set long ago.
---
Chapter II: Developing a Bloodline of Distinction

Chapter III: The Dogs ~ The Foundation of Las Rocosa

Chapter IV: The Las Rocosa Hall of Fame

Chapter V: Working Wild Bison With Stockdogs

Chapter VI: Elaine Hartnagle and the Pony Express

HARTNAGLE'S LAS ROCOSA AUSSIES
E-mail: lasrocosaaussies@aol.com
Telephone: 303.659.6597
Fax: 303.659.6552
Breeding Sound Versatile Aussies Since 1955
Founding/Lifetime Members ASCA and USASA

Copyright© 1999-2015. All information, pictures & graphics contained on this website belong to
Las Rocosa Australian Shepherds & cannot be reproduced without written consent. All Rights Reserved.

The Hartnagle's Las Rocosa website designed & maintained by Mikatura Web Design